CyberSchool encourages students to gain as much experience as possible during their Master's programmes by carrying out an internship in the first and second year.

M1 internship
The M1 internship may last up to 2-3 months and can begin as early as mid-May.  
The aim of the internship is to help students become familiar with a working environment and cybersecurity-related IT professions, identify their preferred fields, and begin to organise their second-year specialist internship.
M2 internship
The M2 internship may last up to 4-6 months and can begin on 1 March. 
The aim of the second-year internship is to enable students to put their acquired knowledge into practice within a professional context, develop interpersonal skills (professional attitude, work ethic and business skills) and identify career opportunities. Through this internship, students complete their training programme by exploring practical and operational aspects of their field and discover interactions with related fields. Companies are able to source and train potential future employees.
Which skills will students enhance during their M2 internship?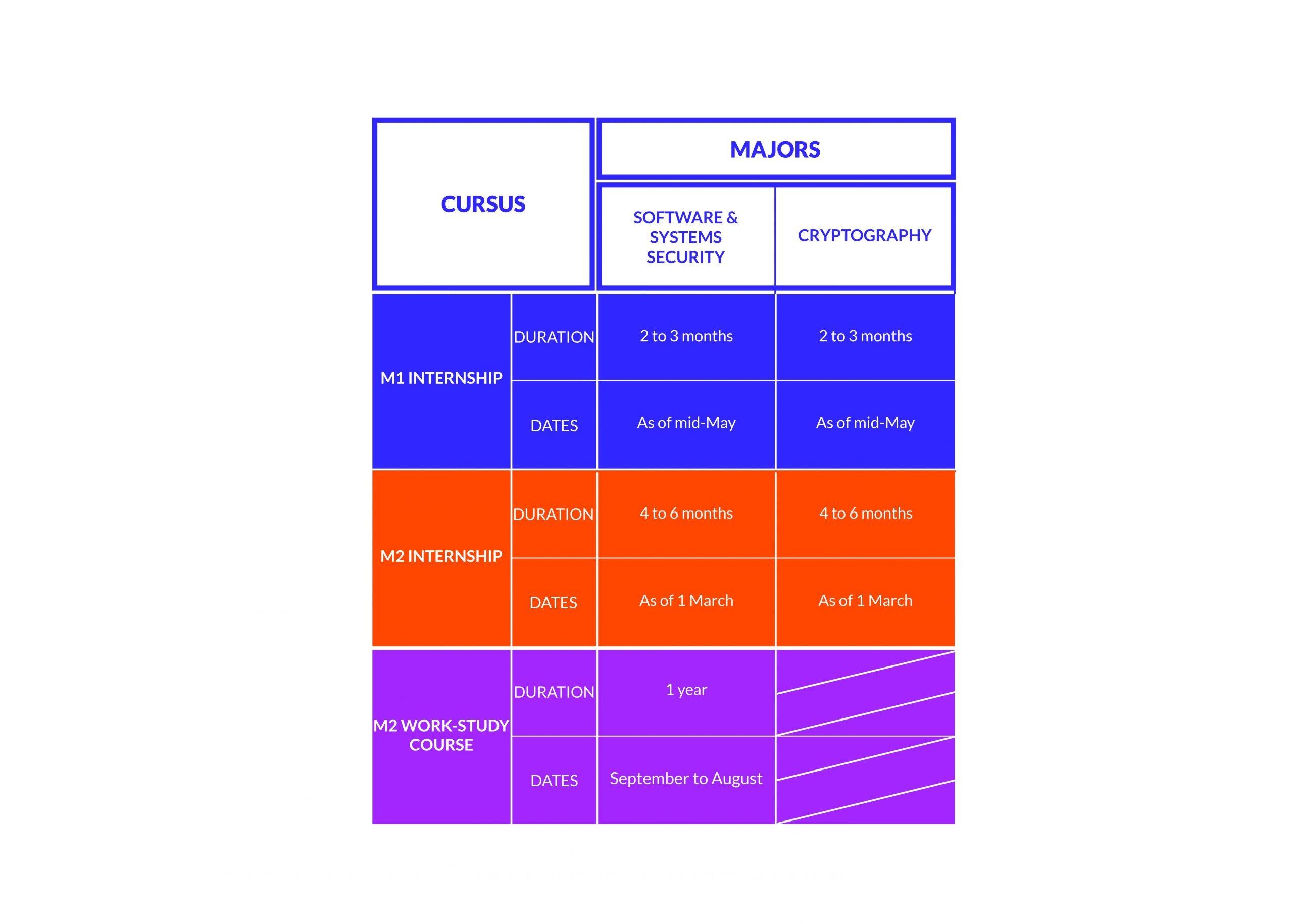 How to find an internship
Internships may be carried out within companies or research labs.
CyberSchool's numerous partnerships with companies offer diverse internships for students who are able to find their internship(s) through the CyberSchool network and also by applying for open-job applications or online internship offers.
CyberSchool nurtures a range of links with research institutes such as INRIA, IRISA, CREST, IODE, CNRS, IETR and IRMAR. Students interested in a lab internship are requested to discuss this with their teachers who will help them develop their project and put them in touch with the research teams.
I found my internship, next step
For students enrolled in Computer Science Master's
When you have found your internship:
connect to the ISTIC intranet with your Sesame username and password
clik on the "your internship" section
refer to the procedure
For students enrolled in Mathematics and applications Master's
Please contact Annie Quéméré to know the procedure (see contact below).
Who do I contact

Elodie Le Coz
For the Computer Science Master's
+33 2.23.23.59.22
–
CyberSchool internship office
Pôle Numérique Rennes Beaulieu
Building 9B, Office 023 (ground floor)
From tuesday to thursday
9 a.m. – noon / 2 p.m. – 4 p.m.
Annie Quéméré
For the Mathematics Master's
+33 2.23.23.36.35
–
Mathematics UFR
Campus de Beaulieu

Building 22