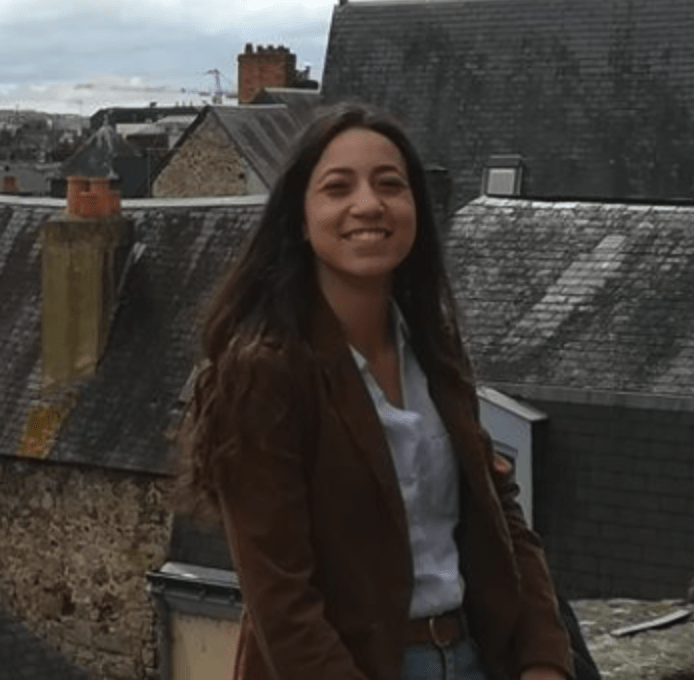 Kawtar Boulagouaz
Master's in Mathematics and Applications – IT Mathematics and Cryptography, graduated in 2018
Why did you choose to specialise in cybersecurity?
To begin with, I was interested in security because of the mathematics (algebra) it involves. I was fascinated by the notion that most of our daily digital transactions rely mainly on the use of certain algebra structures and I simply had to understand how it worked!
What were the highlights of your studies?
First and foremost, the algebra classes because it's a subject I loved. 
And also, the great teachers who were devoted to their subjects and who really knew how to transmit their enthusiasm to us: my mathematics teacher in my final year at high school; my digital analysis professor at Tours University; and my internship tutor at STMicroelectronics. I really enjoyed talking to my Masters supervisor, Sylvain Duquesne, who frequently took the time to discuss my career path with me and help me make the best choices. 
And, looking back, I think that the times when I was tired, or doubtful, also helped me to take a step back and rethink at the right time.
What were the advantages of your internship?
My end-of-programme internship at STMicroelectronics was based on Secure Boot and cryptography performance. At the beginning I had no idea what it was all about,  
so my internship was, therefore, an introduction to the world of embedded systems and the opportunity to get to grips with how cryptography algorithms are used in an electronic card.
At the end of my internship I knew that I wanted to work in this field; I felt more confident and was certain that you can learn anything you want if you just set your mind to it.

What is your current job?
I'm a Security Engineer at NXP Semiconductors in Sophia Antipolis, near Nice. My job mostly involves:
designing and developing software to implement various cryptography-related functionalities for NXP products;

identifying potential weaknesses whilst using secure coding techniques to improve code;

and using silicon and emulation vehicles for test development.
Was it easy to find employment?
I found my first job after a month of job hunting.
A software firm contacted me after seeing my CV on a management job site and I was hired after several interviews. 
Why are you so enthusiastic about cybersecurity?
In practice, powerful and highly reliable software has to run on a product at a given time. So, you have to know how to manage the size of the software in relation to the product's memory, understand how the hardware works, and determine how to change the code if there are bugs.
What interests me the most is the software-hardware combination that's needed to ensure security for products we use daily. You can have the most reliable software on a mobile phone but if the hardware is not up to scratch the attacker will always find a way to surprise you. 
What are your career goals?
I'm still at the learning stage: I want to develop my programming skills and learn more about the hardware architecture of the products I use for work. In the long-term, I'd like to take on a management role.
Do you have any advice for students?
The easy path will always take you somewhere but rarely where you really want to go. Studying is hard work and a career is hard work too. Success means enjoying what you do and knowing how to do it in your own way.
Your technical skills are your main selling point but you will also have to learn to work in a team, to listen to others, to be heard when the opportunity arises, and to accept that you don't know everything yet and that you still have much to learn.
It can be hard going and sometimes you can feel doubtful, like you'll never get there. But, at the end of the day, if you love what you do, you will always find solutions where you least expect them.
Never give up.
–
Interview conducted in 2021.