CyberSchool Graduate Cybersecurity Research School (EUR) is able to offer the best research-based cybersecurity training programmes in France thanks to support from 10 specialist partner institutions. CyberSchool's partners provide research infrastructures, teaching platforms, and support services. They also take part in the School's development, and help to improve the student experience and increase the school's attractive image in France and abroad.
Coordination
Université de Rennes 1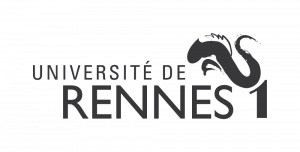 Université de Rennes 1 is the CyberSchool Graduate Cybersecurity Research School's (EUR) coordinating institution. It host CyberSchool's operational team and provides support for its activities.
Université de Rennes 1 provides training in cybersecurity notably through its Computer Science and Electronics Department (ISTIC), Engineering School (Enssat) and Mathematics Department (UFR Mathématiques). Within the framework of CyberSchool's training programmes, Université de Rennes 1 runs two master's related to cybersecurity.'
Université de Rennes 1 also provides legal training in cybersecurity through its Master's in Digital Law.
The University is a member of several research poles, such as the Coordination of French Research-Intensive Universities (CURIF) which brings together France's 18 largest research universities. Université de Rennes 1 is specialized in disciplines known as "hard science" (mathematics, physics, chemistry, biology, ecology, computer science, and geology), "medical sciences" (medicine, pharmacy, and dentistry), and "human and social sciences" (law, political science, philosophy, economics, and management). In addition to this, Foundation Rennes 1, created in 2010, fosters innovation and socio-economic development by connecting the University with businesses.
Other institutions of higher education
CNRS
The CNRS ranks among the world's leading research institutions and is internationally recognised for the excellence of its scientific research. The Centre is a reference in the world of research and development, as well as for the general public. The regional CNRS Bretagne & Pays de la Loire Delegation is in charge of management, providing lab support, representing the institution, and coordinating the scientific community.
INRIA
The Inria Rennes-Bretagne Atlantique Research Centre was established in 1980. Its growth is part of the development of the Rennes and Lannion sites, with Université de Rennes 1, Université Rennes 2, CentraleSupelec, INSA Rennes and ENS Rennes. The Centre is one of Inria's eight research units and has 28 joint project teams in Rennes (including 24 with IRISA's joint research unit) and one in Lannion. Its activities occupy over 600 scientists and research and innovation support staff, including 50 different nationalities. 
Inria, the French national research institute for IT and applied mathematics research, drives "scientific excellence for technology transfer and society". Inria's research is carried out by project teams of researchers with complementary skills who focus on specific scientific projects. Inria's open and agile system means that it is able to explore innovative approaches with its partners in the sector's digital revolution. The Institute's expertise and research results are extended to businesses (startups, SMEs, and multinationals) in various sectors: health, transportation, energy, communications, security and privacy, smart cities and the factory of the future.
Mixed Research Center (UMR)
Financial partners
CyberSchool plays a key role in the socio-economic environment of cybersecurity on a local, regional, national and European level and receives financial and logistics support from four partners.
ANR – Programme Investissement d'Avenir
The National Agency for Research (ANR) is an administrative public institution run under the aegis of the French Ministry of Higher Education, Research and Innovation. The Agency distributes research funding for projects and for public operators working jointly, or with businesses. The ANR manages CyberSchool's shares as part of the "Programme d'Investissements d'Avenir" (PIA), of which it was a winner. The PIA is managed by the Secretariat-General for Investment (SGPI) and was created by the French government to provide funding for innovative and promising investments in France to increase the country's growth and employment potential.
Rennes Métropole
Rennes Métropole (Greater Rennes) has agreed to provide funding for the first four years of the CyberSchool project. The funding applies particularly to PhD mobility scholarships, research chairs, equipment purchases, helping new researchers to settle in, re-organising platforms, and organising international conferences.
Because the challenge in the cybersecurity sector is that the availability of skills should not hinder its development, Rennes Métropole's financial support for CyberSchool is part of the GPEC regional plan. GPEC was initiated by Rennes Métropole in partnership with Région Bretagne (Rennes Regional Council) as part of its recovery plan.
Direction Générale de l'Armement
The French Direction Générale de l'Armement, a specialist testing and engineering unit within the French Ministry of the Armed Forces, is tasked with independently equipping armies, preparing future defence systems, and promoting European cooperation and export. With 18 sites in France, a workforce of 10,000 civilian and military women and men, including almost 60% of executives, engineers and consultants, and its international network of employees, the DGA is active in all aspects of defence (land, naval and air combat, electronic communication and information systems, deterrence, space, cybersecurity, and robotics, etc.).
Pôle d'excellence cyber (PEC)
The PEC was created in 2014 by the French Ministry of Defence and Brittany Regional Council and is a national association which brings together research, training and industrial stakeholders in a bid to accelerate the French cyber sector and place it on the international stage. The PEC is tasked with developing cyber training, academic cyber research and the industrial and technological cybersecurity base. The PEC brings together French Ministry of Armed Forces units (ComCyber, DGA-MI), and a host of businesses ranging from multinationals (Orange, Airbus, Thales, etc.) to SMEs-SMIs (Amossys, Quarkslab and Secure-Ic, etc.) and is built on a solid academic and industrial network and national and international partners. Since 2015, the PEC has been funding 20 new cybersecurity PhD thesis every year – this translates as 80 new PhD thesis since the offset, including 15 CIFRE-funded thesis, and 45 co-funded by the DGA and Région Bretagne (Rennes Regional Council).
Projet Université de Rennes (UNIR)
The UNIR project is the result of collaboration between both of Rennes' universities (Université de Rennes 1 and Rennes 2) and five business schools in Rennes, and their commitment to implementing a coherent, territorial unit to develop a leading research and training university of international repute.
The UNIR project includes:
CyberSchool is managed by Université de Rennes 1 as part of the UNIR project.