en-US
26 November 2021
Students meeting with Serma Safety & Security
On Wednesday 24 November, CyberSchool students met Serma Safety & Security, for a privileged exchange with 4 representatives of the company.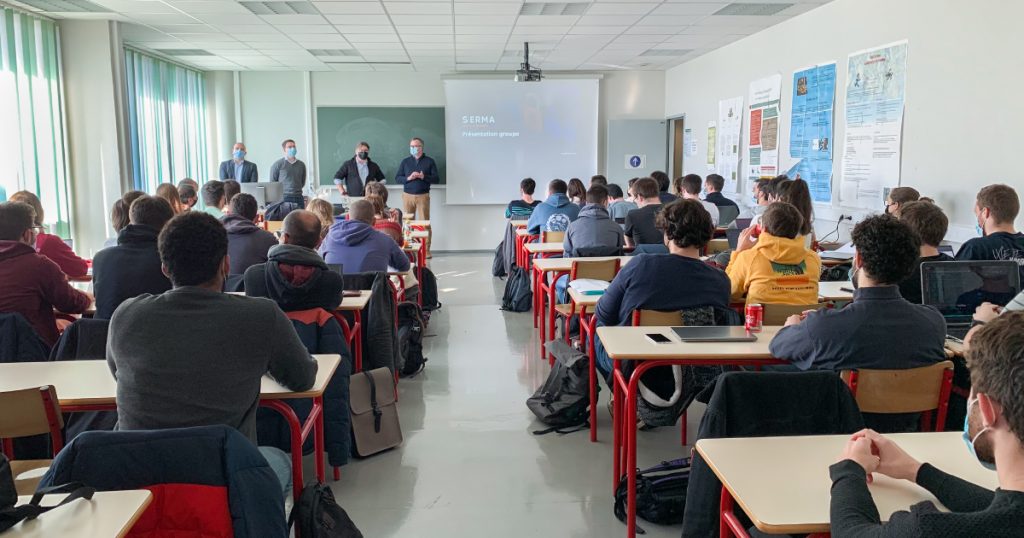 Serma Safety & Security is a subsidiary of Serma Group. It is the single point of contact for the security and operational safety of products and IoT, industrial systems and information systems.The company benefits from an expertise developed over 20 years in these fields. The offer of a combination of expertise, evaluation and consulting is adapted to the needs of the designers and users of these different systems.
CyberSchool students thus met Fabien BILLON, Business Developer, Lionel AGULHON, ITSEF Director, Francois-Xavier DUPLA, Head Of Sales Marketing and Mikael PERIES, Embedded Systems & IoT Security Engineer / Ethical Hacker.
Several topics were discussed during this meeting:
Brief introduction of Serma Group
Presentation of their offers (Cybersecurity, Security assessment lab and Safety)
Presentation of the different cybersecurity jobs within Serma Safety & Security (in particular the jobs related to cryptography)
Presentation of Mikael Peries' career and activities (security of embedded systems and security of IoT systems)
Example of a pentest performed on a car by Mikael Peries
Information on the internships currently offered at Serma Safety & Security