You are interested in cybersecurity?  You've come to the right place!
Because our society is becoming increasingly digitalised, our online data and activities need more and more protection – and that's where cybersecurity comes in!
This page gives you an overview of cybersecurity education opportunities available through CyberSchool's activities and partnerships. They don't reflect the full range of higher education available in France.

Cybersecurity has become a major challenge for our society
The government, army, public bodies and associations are fully aware of this and now have full-scale cybersecurity strategies in place to not just protect themselves from cyber-attacks but, on the contrary, increasingly integrate digital security right from the design stage of their products and services, and therefore guarantee maximum protection for their users.
That's why there is an impressive range of cybersecurity jobs and specialisations available and it's only the beginning! The sector is rapidly-developing and the scope has yet to be developed by future generations.
Cybersecurity is a mindset!
People who work in cybersecurity enjoy working in a network, with colleagues, and have a life-long interest in cybersecurity innovations.
What studies do you need if you want to work in cybersecurity?
If you want to become a cybersecurity specialist, five or six years of further education are recommended. This means going on to study a Computer Science or Mathematics Bachelor's degree after A levels, followed by a Master's in cybersecurity either at a university or an engineering school. If you are not particularly interested in the technical side of cybersecurity, the legal and/or political science aspect are also excellent career options.
But as described in the table below, the best way to join CyberSchool after your A-level is to complete a Bachelor's of Computer Science or a Bachelor's of Mathematics at a university. You will then have the skills required to apply to CyberSchool's Masters' programmes.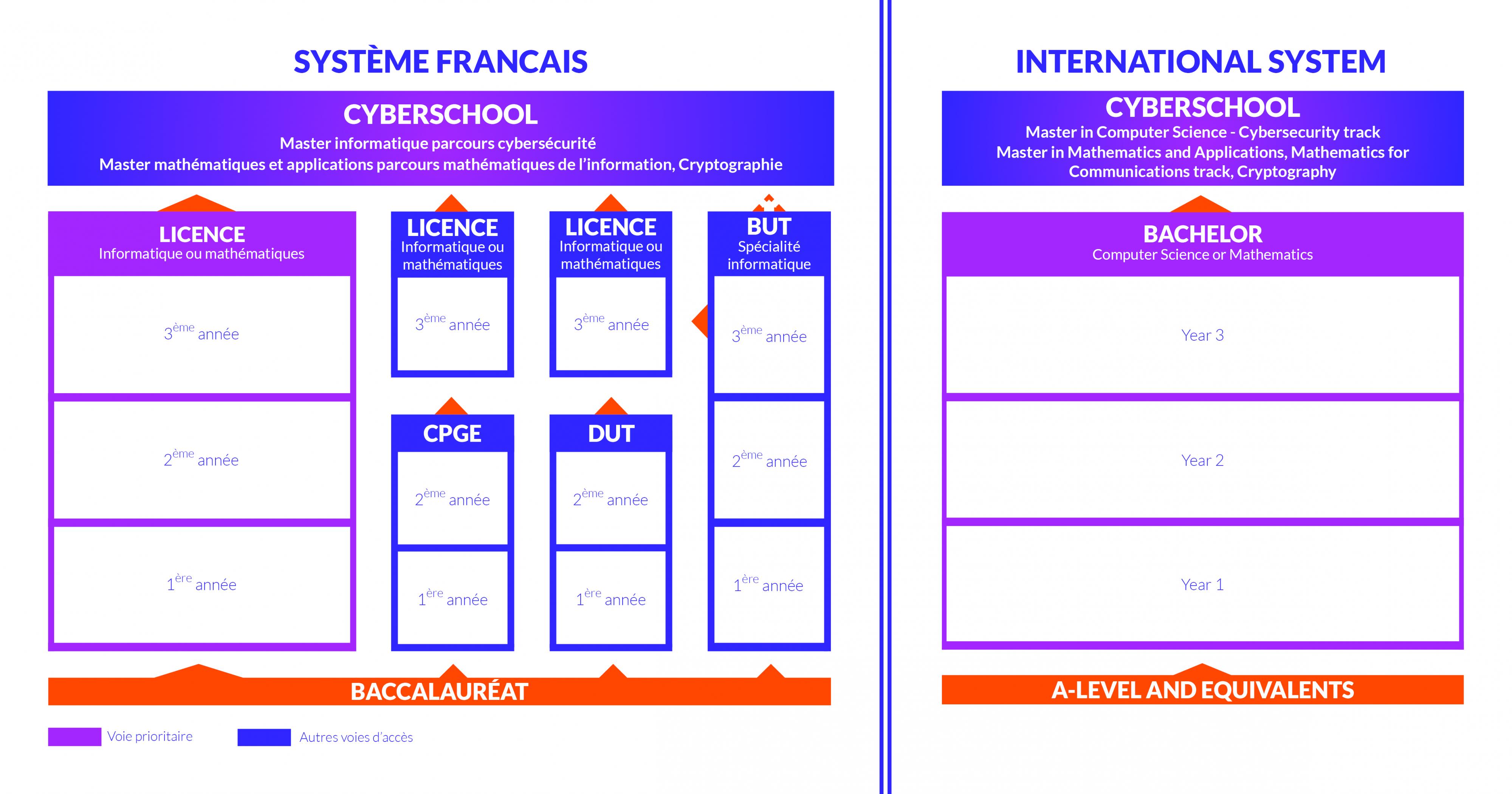 In high school
In high school, you can start to think about the area of specialisation you wish to develop in in cybersecurity.
Do you want to become a technical cybersecurity expert with competences in computer science, information technology and mathematics?
Or, do you want to become a cybersecurity expert with skills in law, social sciences and project management? If you choose this area, an in-depth knowledge in law, management and a good general culture in cybersecurity are recommended. This will impact your choice of academic path.
➡ If you plan to apply to CyberSchool's Cybersecurity Master's programmes, we recommend that you specialised subjects such as digital technology, computer science and mathematics, in high school.

After high school and going on to a Master's degree
Becoming a technical cybersecurity expert
To become a technical cybersecurity expert, you can continue your studies either at a university, an engineering school, or a specialised school.
If you choose a university
The best way to join CyberSchool's Cybersecurity Master's degrees is to enrol for a Bachelor's of Computer Science or a Bachelor's of Mathematics.
In Rennes, Université de Rennes 1 runs two Bachelor's degree programmes:
Both these entrance levels offer the skills needed to then apply for the CyberSchool's Master's in Cybersecurity.
To apply to these Bachelor's, you have to go through ParcoursSup.
If you an engineering school
CyberSchool is in partnership with four engineering schools which run cybersecurity training programmes: CentraleSuppélec, IMT Rennes, l'ENSAI and INSA. You will find information about their courses and application procedures on their websites.
If you another specialized school
If you choose a Classe Preparatoire aux Grandes Ecoles : CPGE (French preparatory classes for selective postgraduate schools) or a DUT, you will be requested to complete your 3rd year of Bachelor's in Computer Sciences or Mathematics before being able to apply to CyberSchool.
If you choose to enrol in a BUT, the admissions committee will decide if you can directly enter at Master's level or if you need to complete a 3rd year of Bachelor's degree first.
(see the table in the middle of the page)
Becoming a legal cybersecurity expert
Cybersecurity isn't just about Computer Science! The legal aspects of digital security are rapidly developing and an increasing number of law and digital security training programmes are on offer.
There are different training programmes available for a legal and political approach to cybersecurity. CyberSchool's partners offer the following training programmes, for example:
Regardless of your choice, we recommend that you make an appointment with a careers advisor who will help you make your decisions.